Free up Personnel & Save Money
Automatic Box Labeling Videos
Avoid annoying ads by watching videos here. ↓



We can label the following:
No parts pricing sucker punches – VBS uses standard, industry-available components that are easily attainable from multiple vendors, in the design and construction of our equipment assuring our customer economical, simplified, fast and efficient maintainability.
We bring you a complete automatic box/case weigh labeling system that requires minimal oversight. We can label boxes on the front, side, back, top, bottom or even apply a corner-wrap at high speeds.
Automatic Box Labeling Features:
NTEP Capacity x Resolution (Standard)
200 lb  x   0.1     lb
100 lb  x   0.05   lb
  40 lb  x   0.02   lb
  20 lb  x   0.01   lb
  10 lb  x   0.005 lb
NTEP Capacity x Resolution (Metric)
100 kg  x   0.05   kg
  40 kg  x   0.02   kg
  20 kg  x   0.01   kg
  10 kg  x   0.005 kg
    4 kg  x   0.002 kg
Some companies only do part of a labeling solution. VBS does it all! We can offer a turnkey solution that saves you hassle!
How it works: (refer to diagram below)
The Case Indexer ensures all boxes are presented consistently for weighing.  It must ensure the proper spacing of boxes so 2 cases are not on the scale at the same time during the weighing cycle.
The Scale Infeed Conveyor ensures the cases/boxes are moving at a constant speed as they transfer onto the conveyor scale.
The photoeye sensors on the Conveyor Scale will start and stop the weighment cycle at the correct point. This weight information is then sent to the system controller.  While the weighing process is active, an optional barcode preidentification scanner can be used to automatically identify the type of product during chaotic product box flow.
The System Controller takes weight information from the conveyor scale and the product ID information from either the preidentification scanner or operator input, and looks up product parameters including box tare to determine the information needing to be printed on the label.  The label information is then sent to the printer applicator for automatic label generation.
The Printer within the printer applicator will then print a label with bar code data.  This label is automatically placed onto a case once the box/case reaches the proper position in front of the applicator.
A Verification Barcode Scanner reads the previously printed and applied barcode label and stores the information in the system controller as verified production if the proper parameters are met. If proper parameters are not met, the system controller will automatically signal the divert to reject the offending box/case.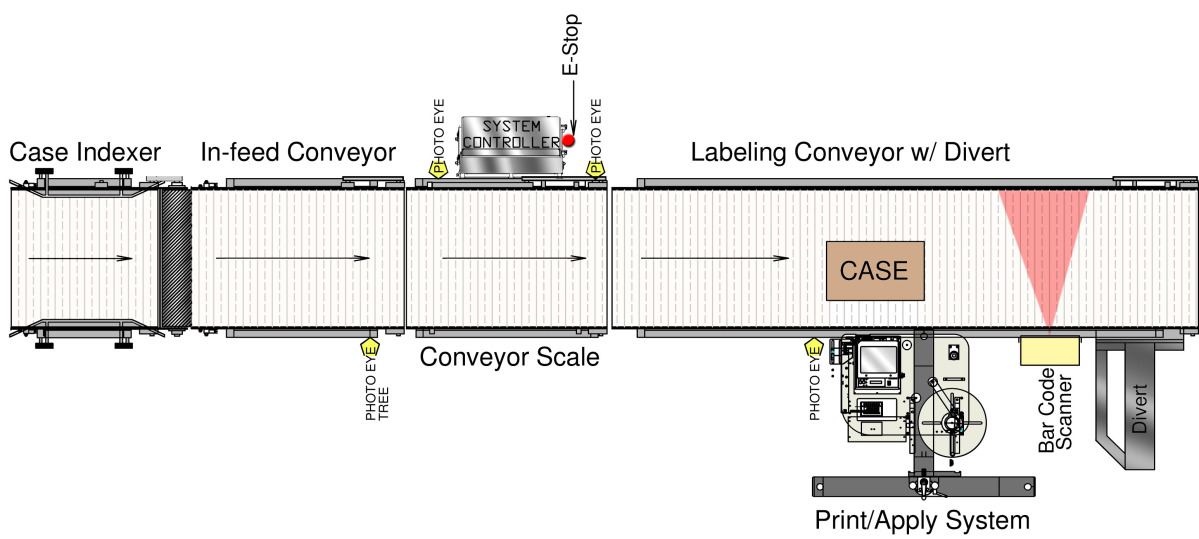 4 Ways You Can Use Automatic Box/Case Labeling Machines
Additional Labeling Videos
Automatic Case Labeling with Corner-Wrap Applicator
Automatic Box Labeling with 90-deg transfer and scanning
Automatic Case Labeling with Verification Scanning & Divert
Washdown Automatic Case Labeling System with Backup Labeler
Downloadable PDF Resources
Didn't find what you're looking for? Try these products.