Automatic Box Weigh Labeling
Save time and money
---
---
---

No parts pricing sucker punches – VBS uses standard, industry-available components that are easily attainable from multiple vendors, in the design and construction of our equipment assuring our customer economical, simplified, fast and efficient maintainability.
We bring you a complete automatic box weigh labeling system that requires minimal oversight. We can label boxes on the front, side, back, top, bottom or even apply a corner-wrap.
---
Features and Benefits
Reduce hand-labeling to save money, time and labor
Label is applied evenly which improves product appearance
Consistently applied labels reduce barcode reading errors
Label editing software allows you to have control over the look of your label
Simplifies your compliance labeling requirements
---
Automatic Box Labeling Features
---
Primary Components for Automatic Box Weigh Labeling Machine
Optional Conveyor with angled roller belting to index boxes to one side
Indexer to properly space boxes
Optional Preidentification Scanner to automatically identify product entering the system
In-motion conveyor scale to determine box weight
Conveyor to transport boxes past printer applicator
Printer applicator to print barcode and weight and apply onto box
Barcode Verification Scanner to ensure barcode is readable
Divert Mechanism to reject boxes that do not meet customer criteria
---
How It Works:
Chaotically spaced product is automatically spaced to the appropriate start-of-product to start-of-product parameters for the weighing system by the indexing conveyor.  The indexing conveyor accomplishes this task by accumulating product and releasing an individual product one at a time. If product flow to the labeling system is chaotic by product, a preidentification scanner is used to read a product identification barcode that has been previously attached to the product.
Once the product is identified it moves across the conveyor scale, the weight is recognized by the controller. The system automatically determines the tare weight for the product as well as the acceptable weight parameters.
The system/machine automatically prints and applies the label to the product with the net weight information. At this stage an automatic barcode reader will verify the printed information is both readable and correct.  If any anomalies exist, the product is diverted from the line for rework.  The system accumulates the daily production totals, and adds the information to the appropriate product manifest.
---
Top View of Automatic Box Weigh Labeler with Several Options
4 ways you can use Automatic Box Labeling Machines
Apply labels on front, side, back, top, bottom or corner-wrap
Apply preprinted labels
Gather weight information to be printed on labels
Take your information, combine it with ours (i.e. weight) and print it on one label
We can label the following:
Boxes of virtually any size
Cases
Totes
Cartons
Jugs
Round Containers
Pallets
Trays
---
Washdown-Rated Automatic Box Labeling System
---
Automatic Box Labeling System with Verification Scanners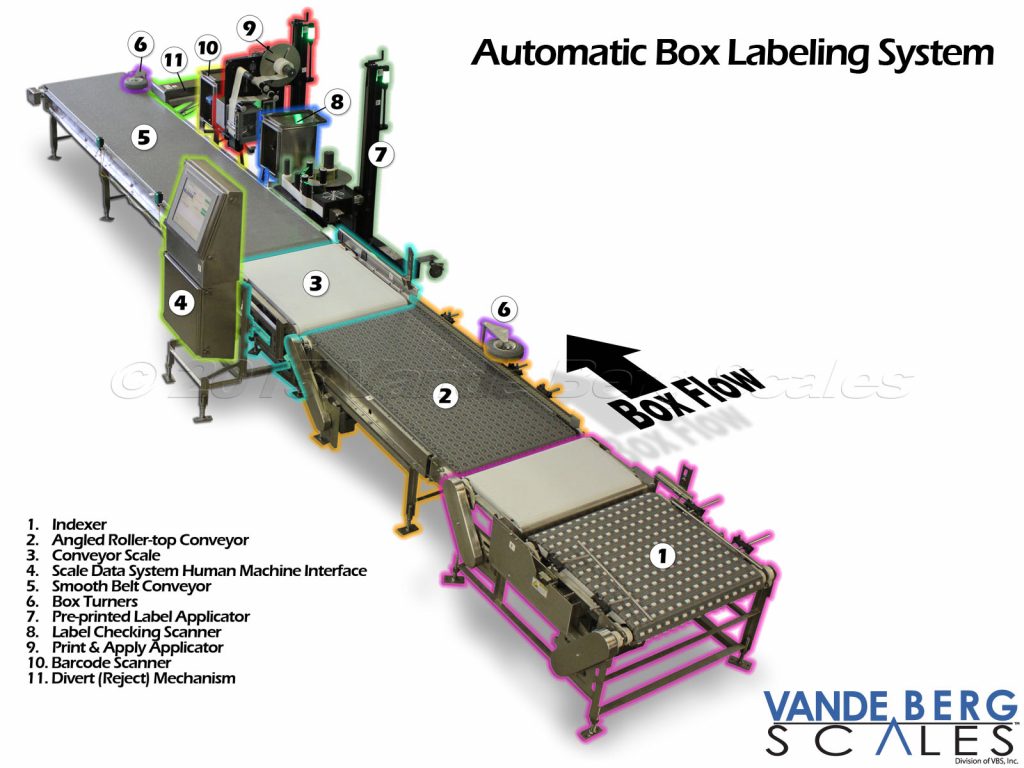 ---
The following blog links will take you to vbssys.info (our blog site) and open a new window.
 How many boxes can be labeled in 1 minute?
Automatic box labeling and bar code scanners – what you need to know.
See all 13 blogs on Automatic Labelers
---
Washdown Automatic Tote Labeling System
---
Automatic Box Labeling System (with non-washdown printer/applicators)
---
---
Not sure what variables are important for specifying a printer?  No problem.  Just fill out our questionnaire!
Automatic Box Labeling Questionnaire.doc
Email the completed questionnaire or
fax it to us at (712) 722-0900 to get a quick response!
---
 Contact us today to take your labeling to the next level!  (712) 722-1181