In-Motion (Dynamic) Checkweigher
Stop giving product away
---
Need Customization?
We can customize a checkweigher to your exact specifications. This results in optimized speed and accuracy for maximum throughput.
Tired of Small Displays?
VBS integrates an impressive standard 17″ Human Machine Interface display for almost unlimited reporting and display options. You want larger? We can do it!
No parts pricing sucker punches!
VBS uses standard, industry-available components that are easily attainable from multiple vendors, in the design and construction of our equipment assuring our customer economical, simplified, fast and efficient maintainability.
Vande Berg Scales (VBS) WEIGHMORE® In-Motion (Dynamic) Checkweighers employ state-of-the-art features which make them the best value in the industry. Our checkweighers give you an accurately weighed product that you and your customers can trust.
---
 Features & Benefits:
Reduces product "giveaway" which saves you money
Reduces false rejects and rework thereby saving time and money
Incorporates an extremely durable and cost effective load cell vs. magnetic force restoration technology that can be costly, delicate and complicated.

Most units are backwards compatible ensuring replacement parts will be available for years vs. having to replace the entire unit due to discontinued product line excuses.
Off-the-shelf parts ensure you can easily source replacement components so you are back in operation.


Often incorporates modular plastic belting, which aids in simplicity, cost-effectiveness and weighing accuracy by reducing rotating mass needed in other belting designs.
---
Checkweigher Design Features
---
Our In-Motion Checkweigher Scale can be designed to fit within your existing processing line
---
Need more than one lane?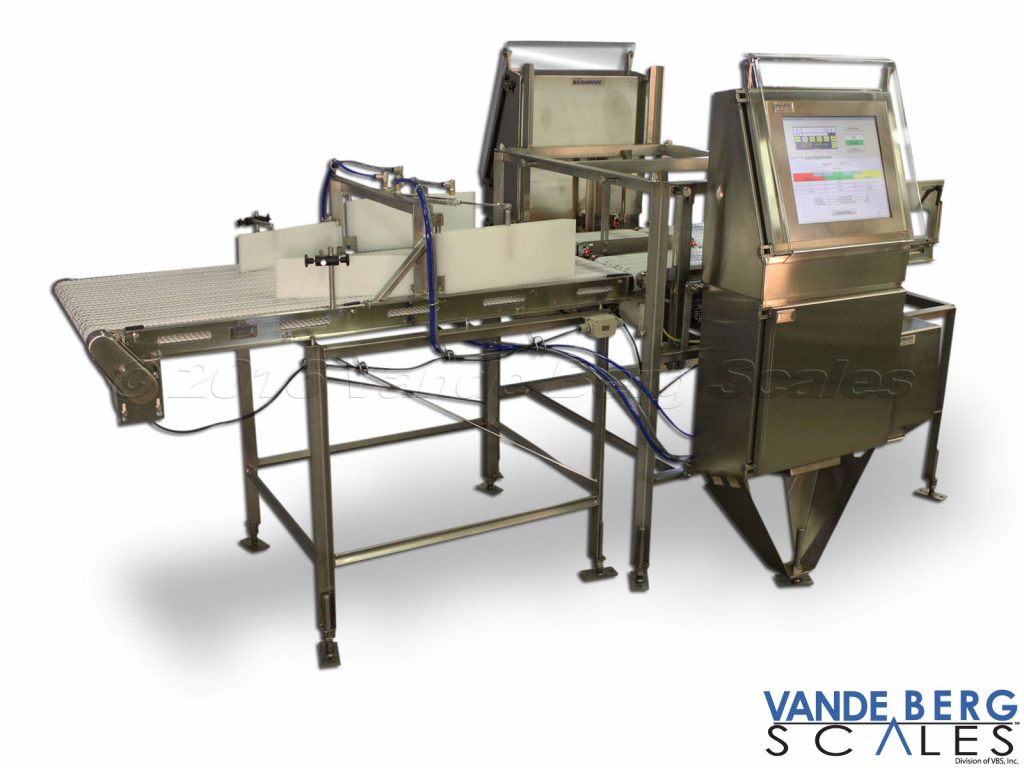 ---
 
---
The following blog links will take you to vbssys.info (our blog site) and open a new window.
Poultry, boneless breasts, tenders, lobes, wings or any chicken component
Beef, hamburger patties, ground beef, loafs, chubs, brisket, sirloin, beef ribs, roast
Pork chops, bacon, pork bellies, baby back ribs, St. Louis ribs, ham, loins, picnics, or any pig product
Dairy, cheese, milk, cream, yogurt
Turkey, drumsticks, thighs, leg quarters, lamb chops, duck
Boxes, bags, sacks, paint cans, cans, bottles, pouches, etc.
corn/bean seed, bag, potatoes, onions, flower bulbs
---
In a hurry?  Fill out our questionnaire to speed things up!  It will only take 6 minutes.
Email the completed questionnaire or
fax it to us at (712) 722-0900 to get a quick response!
---
Contact us to learn how you can

WEIGH

MORE
®
 for way less!