Automatic Sortation Systems
Significantly reduce your sorting labor costs



No parts pricing sucker punches – VBS uses standard, industry-available components that are easily attainable from multiple vendors, in the design and construction of our equipment assuring our customer economical, simplified, fast and efficient maintainability.
Our automated Sortation Systems can significantly reduce labor and improve sortation accuracy and efficiency. Sanitary design makes for easy washdown. We can customize a classifier to your exact physical specifications and needs. 
Sortation System Features:
Primary Components of Sortation/Classifying Systems
Proper Product Handling When Using Automated Sorting Systems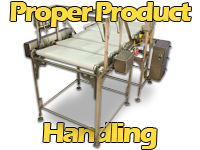 When designing a sortation and classifying system, it is important to keep the fragility and stability of your product in mind at all times.
Products (such as apples, or egg cartons) can be damaged if a sortation system isn't designed with the right features to match them. Rough handling of product is one of the biggest downfalls for a poorly designed system, but it is also rather difficult to eliminate entirely because of the system's machine-like nature.
A sorting system requires that you have very precise and smooth divert action. If you can't have too much power driving the divert, it will damage the product.
Our decades of experience ensures that the air output driving the divert is appropriately calibrated so divert impact is minimized.
Some products are stubborn and like to stick to things like conveyor belts. These sometimes require a little extra "elbow grease" when being sorted.
In one case where we were dealing with a sticky product, we adapted the sorting conveyor so that it was at an angle. The scale itself stayed horizontal, but the conveyor itself was mounted at a small angle (10-20 degrees) so that gravity could assist the divert in guiding product off of the belt.
This allows the product to roll off the conveyor so it isn't resisting the divert or getting stuck between the divert and conveyor.
Speaking of getting stuck, since there is a minuscule gap between the diverts and the conveyor, certain products can work themselves underneath pull-off diverts and get stuck, jamming up the system essentially.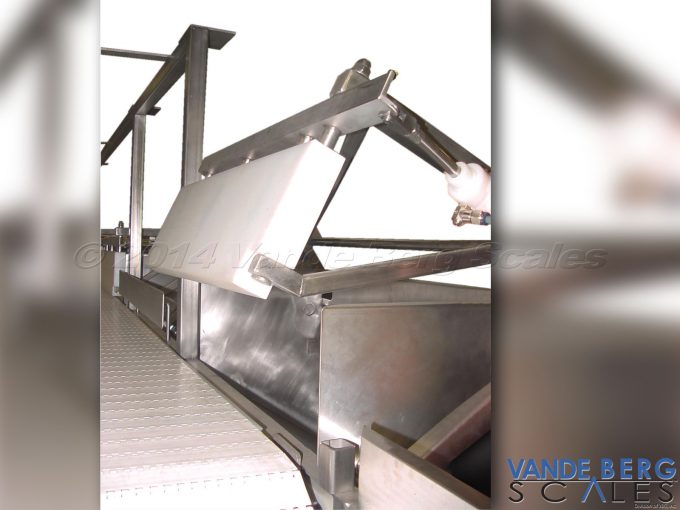 To address this issue, we have installed a suspension that allows the divert to pivot upward allowing the wedged products to pass through.  See image above.
If you need sorting or are having problems with a current sortation system contact us for sorting and classifying that you can trust.
Additional Sortation System Videos
8-Drop Sortation System with Checkweighing Capabilities for Urethane Parts
6-Drop Ham Sortation System with Combo-full lights
Loin Sortation System with Liftable Conveyor Diverts
Rib Sortation with Pacing Conveyor and 6 Trim Stations
Downloadable PDF Resources
Didn't find what you're looking for? Try these products.