Finding Nickels and Dimes in Better Yield Designs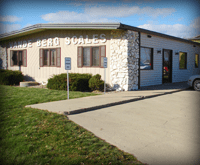 Vande Berg Scales (VBS) utilizes a 15,000 square feet manufacturing facility is located in the heartland of Northwest Iowa. Automation, Measurement, and Design is our passion.
Vande Berg Scales has built a solid presence in the meat, dairy, food, and manufacturing industry as a leading force in dynamic weighing and automation with over 50 years experience.
Today, we offer our customers a huge range of weighing, measurement, and automated systems under the brand names: Vande Berg Scales, WeighMore®, Easy-To-Clean™, Ecoline™.
Vande Berg Scales sells truck scales, agricultural solutions, standard equipment, and we service just about any scale or automated system that needs fixing.
You can be assured your equipment is supported by a professional team of design engineers, salesmen, installation, maintenance, and service technicians. "We are there when you need us," and "We never, never give up" are the mottos we strive to achieve so that you can be assured that the equipment we build and service will meet your expectations every time.
We have not forgotten our humble beginnings; Our Midwest Christian work ethic is genuine and we are committed to our customer's success.