Washdown Industrial Computer with Scale Indicator Options
One platform…nearly limitless applications
---
---
---
Do your applications have a rock solid equipment foundation? The SDS unit represents a cornerstone for automated system uses. Uses include any computer-related tasks such as case/weigh-price/combo/barcode labeling, data entry stations, measurement process monitoring, operator process prompting, quality control, scale data interfacing, batching system control, traceability, remote displays, automatic ID, and more.
Load it with what works for you! Use your applications or use your favorite vendor applications on the plant floor without the fear of equipment damage.
Got Weight?  The option of a NTEP approved weight indicator built right into the SDS with an approved metrological core eliminates the purchase of a separate weight indicator & enclosure. This simplifies the hardware solution.
Intrusive or Intuitive? Our Industrial SDS Computer Controllers help your plant increase functionality by allowing operators to easily interface with the system via a touchscreen human machine interface RELIABLY AND QUICKLY.
You don't want an industrial computer, you want the process functionality! You want it 1) to boot up fast, 2) to be robust, 3) to be tolerant of poor power, 4) to laugh at viruses and 5) to easily interface with your measuring equipment, if desired.
---
Features and Benefits:
Windows® embedded operating system makes the build permanent and impervious to changes without formally committing the application.
Large touchscreen provides a positive interaction experience
Modular, compact, robust design allows the SDS to be used standalone, connected to control enclosures and/or interfaced to weighing equipment.
Watertight NEMA-4X stainless enclosure keeps components dry
Lockable internal maintenance access keeps equipment secure
Custom builds allow normal operating systems, if desired
---
Industrial Touchscreen Features:
---
What is possible with this unit?
Operators can be prompted for specific data thereby minimizing thinking, writing, and decision making while transaction reliability is increased. If we write your application for you, we can customize the software to your exact needs. In addition, the SDS can run practically any or all of your existing Windows ® programs.
Our SDS industrial computer can be interfaced the same as any PC to equipment including keyboards, scanners, printers, fingerprint readers, Trolley Vision® readers, digital I/O, etc.
The SDS incorporates all the functionality of a computer in an industrial enclosure with easy to use 17-inch touchscreen HMI keeping the nuisance of mice and keyboards from your tough guys.
---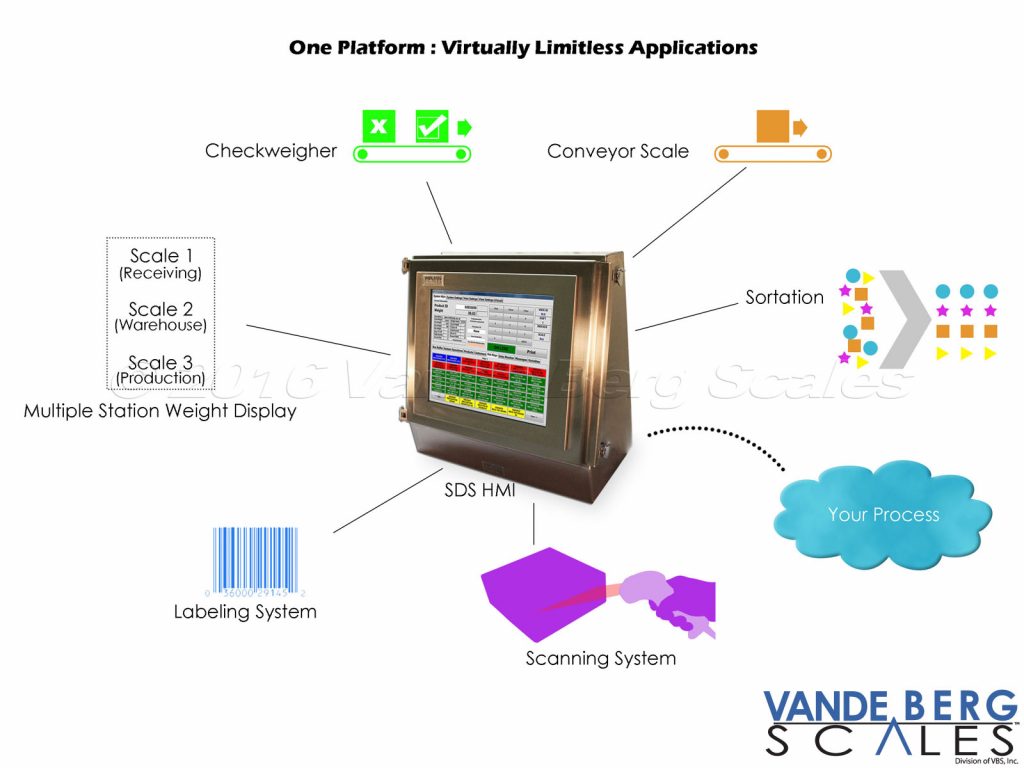 The SDS can run multiple systems from a single station.
---
Thoughtful design features:
Water stays out! – The touchscreen HMIs are equipped with a front maintenance access door featuring a rain gutter and recessed seals. This gains maintenance access to the NEMA-4X rated and sealed touchscreen monitor, optional internal mounted UPS, and the industrial embedded computer controller.
Keeping life simple – We have also designed the cable/cord seal to permit entry without cable end removal.
High temps? No problem. – It can also function in 105-deg F ambient temperatures.
---
What about viruses?
When using Windows® embedded, it's simple – just pull the plug, wait 10 seconds and reinsert.  The system will reboot to its original factory setting with no trace of a virus.
---
---
---
Contact us at 712-722-1181 to learn more.