Stop Manually Spacing Boxes


Box/Case Indexers are designed to save you money by eliminating the need to manually space boxes entering:
In-motion weighing scales
Automatic labeling stations
Scanning stations
Palletizing stations
Sorting systems
Indexing conveyors (Indexers) create consistent spacing of boxes/cases thereby virtually eliminating traffic jams. Indexers also permit product to be properly presented so labeling and in-motion weighing can occur without hassle.
How a Box Indexing Conveyor Works:
An indexing conveyor will automatically release each box one at a time at a settable rate by dropping down the tail of the entry conveyor so that a box to be held back will come to a stop against a conveyor bulkhead until the entry conveyor is lifted via automatic control. A speed up roller with then rapidly propel the box away from the following box allowing a gap to be sensed by a photo eye.  The photo eye coupled with the conveyor speed change is employed to ensure that every trailing box will be delayed to the proper box leading-edge to leading-edge frequency. The end result will be even start to start spaced boxes exiting the system.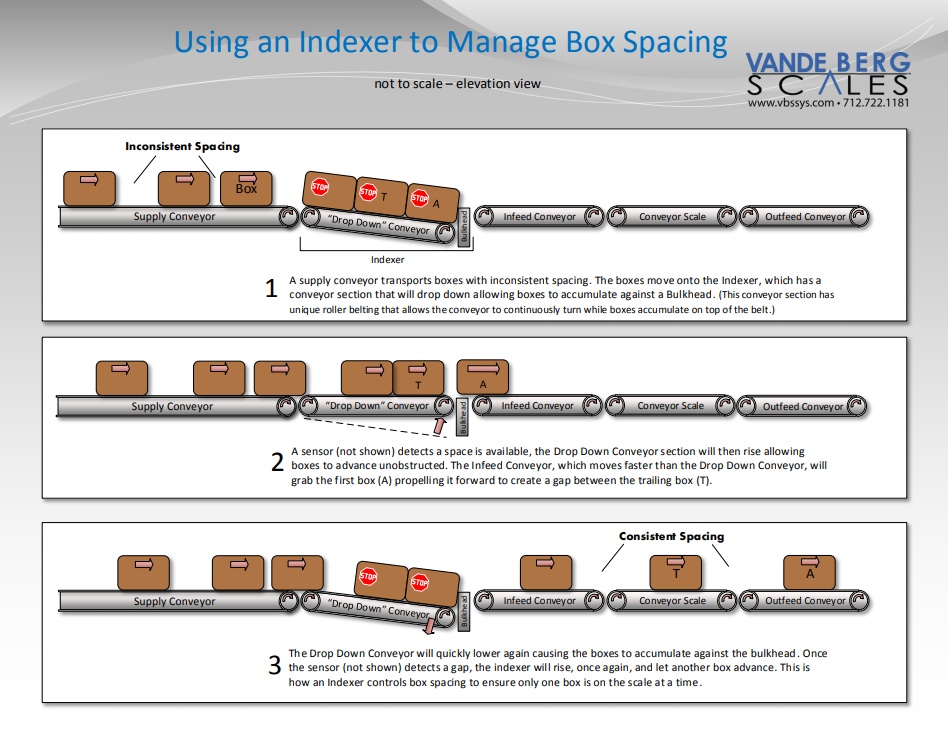 Downloadable PDF Resources
Didn't find what you're looking for? Try these products.