Stainless Steel Gravity Roller Conveyor
Gravity. It's free, it's the law…why not use it?
---


We can customize to any length, height, width or curvature!
When you have the need to place a gravity roller conveyor in a washdown/corrosive environment or sanitize a conveyor regularly, we have the solution you need with 304 stainless steel frame and solid PVC rollers.
---
Features and Benefits:
Constructed from 304 stainless steel
Does not require power
Simple construction lowers costs
Minimal maintenance required
Stainless steel frame and solid plastic rollers assure ease of sanitation
Can be built around facility obstacles (i.e. posts, columns, large machinery)
Gravity Conveyor Features
---
What type of setup is ideal for installing a sanitary gravity roller conveyor?
Gravity roller conveyors are ideal when you need to move a few products a short distance AND the product is already moving or has some potential energy (height) associated with it. They work well for transporting the occasional product that has been diverted, which might need to be reworked and for accumulation aspects at the end of a moving line.
---
---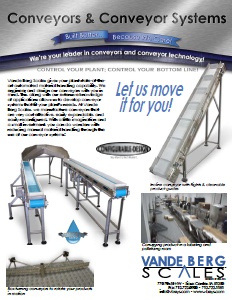 Download our PDF Brochure
Contact us at 712-722-1181 to learn more!