In-Motion (Dynamic) Monorail Scale
Industry Leading, Unparalleled Performance
---
---
---
The numbers help tell the story:
Our 750-lb scale is the heaviest capacity in the industry while still equaling the 0.2-lb division size which is the smallest in the industry. Approved for chain speeds ranging from 45 drafts/hr (lowest in the industry) up to 2,150 drafts/hr (highest in the industry).
Applications:
Pork Carcasses
Beef Sides
Veal Carcasses
Kosher plants
Lamb Carcasses
Hot, cold, hot box, grading hall, hot fat trim, sales cooler and transfer scale weighing
Yield control tracking advantages
Our High-Accuracy In-Motion (Dynamic) Monorail Scale is the most cost-effective system available when comparing the reduced costs of installation and then the resulting accuracy in operation of the monorail.
---
Features and Benefits:
Exceptionally high accuracy ensuring you don't give away product
Unique transition rail gradually loads weight onto live scale thereby reducing weight oscillations
Unique chain conveyor mechanism cancels out trolley rolling and push-dog problems
Easy installation compared to other units
Manufactured from stainless steel for harsh environments resulting in incredible reliability
Long-life, heavy duty push-finger dog chain powers the trolley away from the plant push dog without carrying the load of the trolley as compared against competitors high wear chain designs
---
In-Motion Monorail Features:
---
Competitors Monorail Scale vs. VBS Dynamic Monorail Scale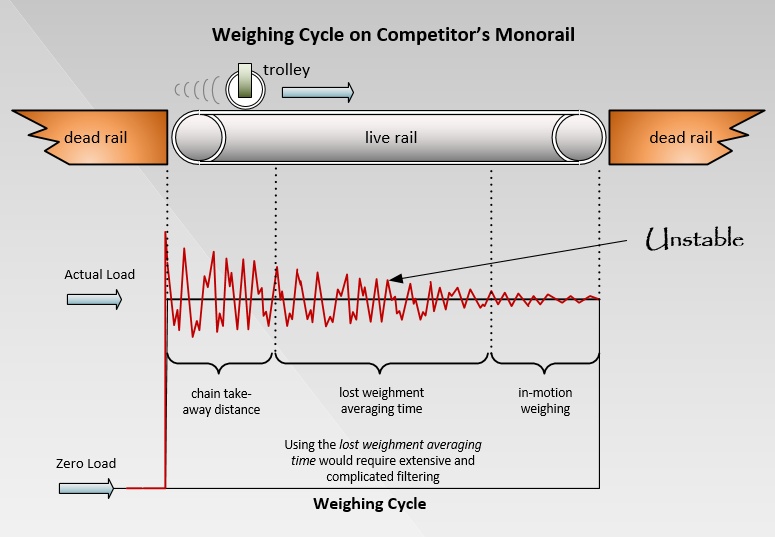 Typical Monorail Scale Weighing Cycle – The sudden jolt of the trolley wheel moving onto a typical live rail creates load cell oscillations which results in inaccurate carcass weights.
---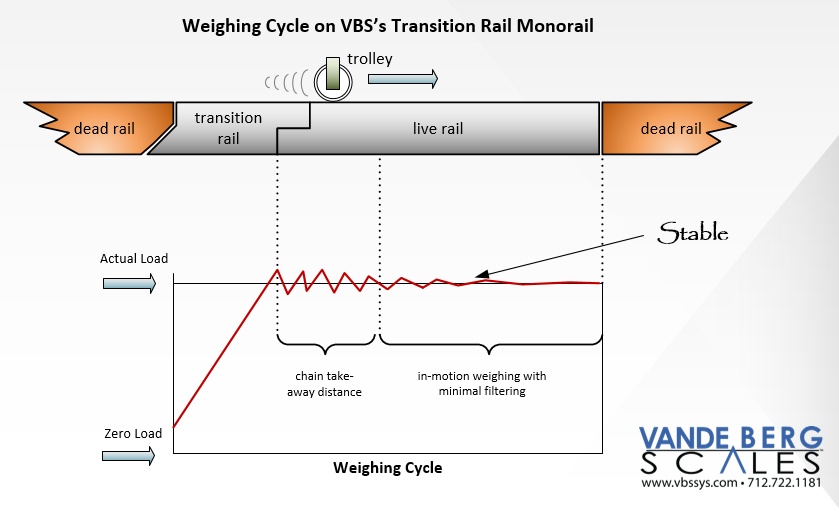 VBS In-Motion Monorail Scale Weighing Cycle – the transition rail reduces load cell oscillations as the trolley moves onto the live rail. Simultaneously the powered scale chain moves the trolley away from the plant push-dog often before the trolley arrives onto the live rail. This allows a longer weighing cycle resulting in more accurate carcass weights.
---
Additional features of the VBS Dynamic Monorails confirming the best of the industry:
NTEP approved Scale (COC# 97-005) ensuring compliance with best practices
Dual load cell design allows smallest possible scale divisions based on NTEP approved load cells
Load cells are enclosed in a stainless steel tube and sealed to repel moisture
Weight indication system included for system accuracy
Minimal filtering necessary
---
---
---
Contact us at 712-722-1181 to learn more.