Industry Leading – Unparalleled Performance



The numbers tell the story: Our 750-lb scale is the heaviest capacity in the industry while still equaling the 0.2-lb division size which is the smallest in the industry. Approved for chain speeds ranging from 45 drafts/hr (lowest in the industry) up to 2,150 drafts/hr (highest in the industry).
Our High-Accuracy In-Motion (Dynamic) Monorail Scale is the most cost-effective system available when comparing the reduced costs of installation and then the resulting accuracy in operation of the monorail.
NTEP is required when you are selling your product based on its weight.  Therefore all food processing facilities require an NTEP scale in their facility when capturing product weight.  NTEP is also required when transmitting a weight for creating a shipping label.
Additional features of the VBS Dynamic Monorails confirming the best of the industry:
Competitors Monorail Scale vs. VBS Dynamic Monorail Scale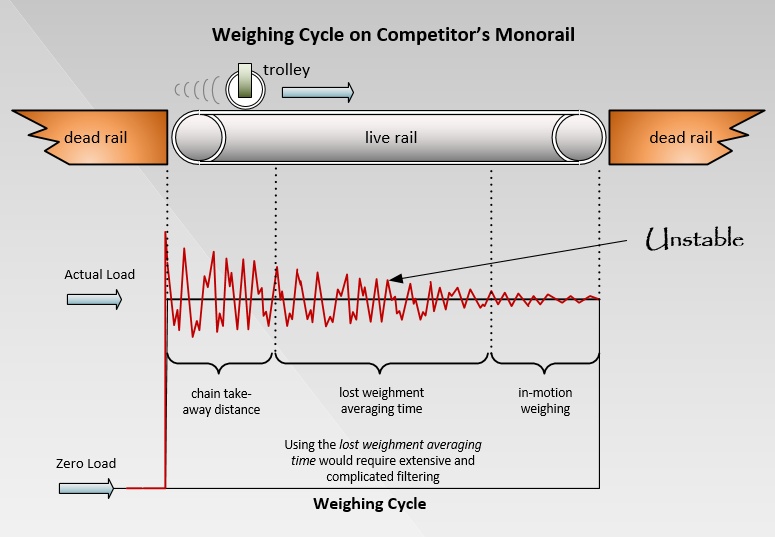 Typical Monorail Scale Weighing Cycle – The sudden jolt of the trolley wheel moving onto a typical live rail creates load cell oscillations which results in inaccurate carcass weights.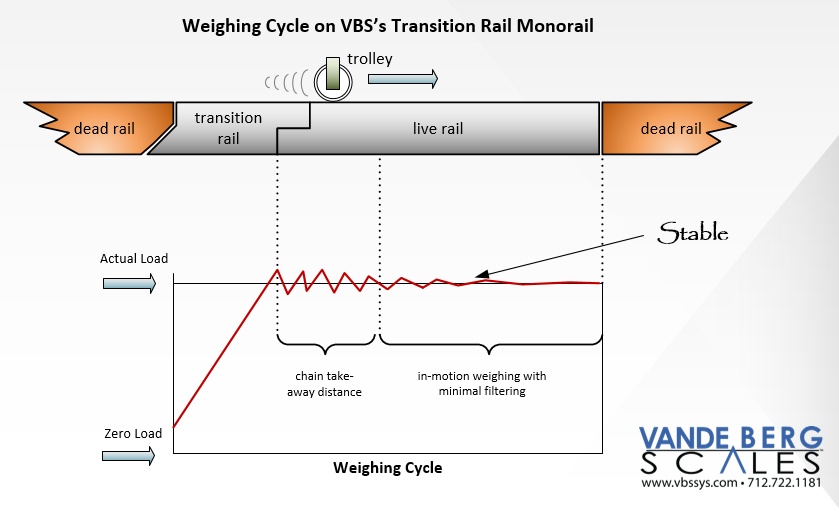 VBS In-Motion Monorail Scale Weighing Cycle – the transition rail reduces load cell oscillations as the trolley moves onto the live rail. Simultaneously the powered scale chain moves the trolley away from the plant push-dog often before the trolley arrives onto the live rail. This allows a longer weighing cycle resulting in more accurate carcass weights.
Downloadable PDF Resources
Didn't find what you're looking for? Try these products.