Monitor-Touchscreen-PLC-Computer Enclosures


Monitor/Computer Enclosure Options
Prevent water from damaging your monitors/PLCs with our NEMA-4X stainless steel washdown-rated enclosures. Reduce down time by keeping your electronics & computers dry and running properly.
See our Enclosure Gallery
Washdown Monitor Enclosure Features:
Yes.  Not only can we make it any size, but we can: add as many doors as you need, shelves as you want, windows in any location and add a stand to support the enclosure.
Yes.  We can add an aluminum panel on any side and provide a standoff on the bottom.
The highly loaded hinges invariably crack and break the enclosure at the attachment point. This allows the environment to penetrate the enclosure.  Repetitive purchasing of lesser quality and replacement of damaged internal components often cost more than our stainless steel products.  Give me a dented enclosure over a cracked enclosure any day.
The stainless steel enclosures we ordered were on spec, came in a timely fashion, and work great! This makes nearly 20 enclosures we have purchased from VBS in the last two years and are very pleased with the craftsmanship, quality and performance. If we have a special need, VBS is there to help solve our problem. Thank you for a job exceptionally well done
7 Design Criteria for Keeping Water Out of an Enclosure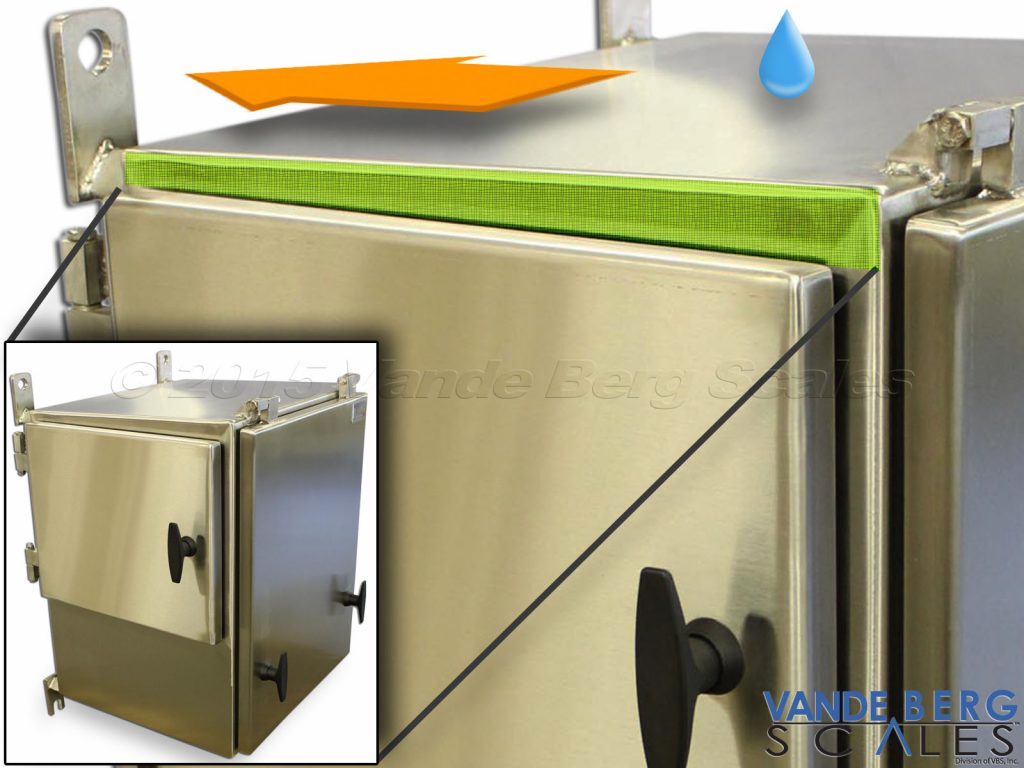 1. Sloped Top – For many food processing facilities, standing water is not welcome. Therefore, the top of the cabinet is sloped ensuring water runs off and does not pool.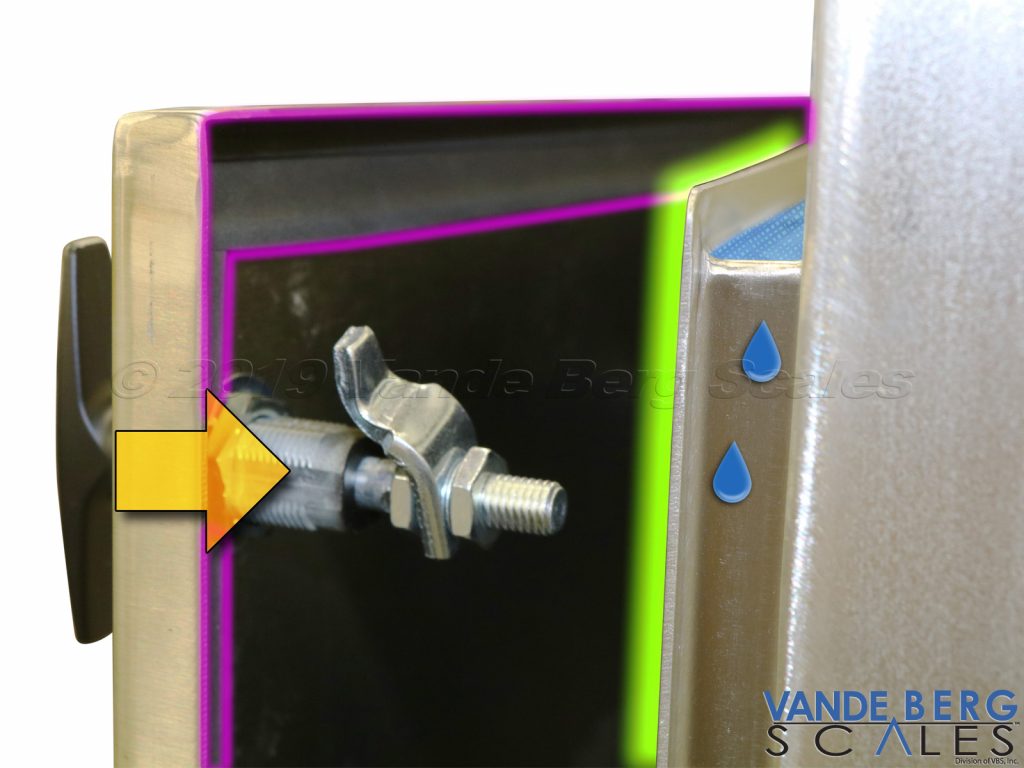 2. Rain Gutter – a rain gutter prevents a high pressure water stream from achieving a "direct shot" at the door seal. The rain gutter acts as a deflector for the high pressure water stream when the door is closed.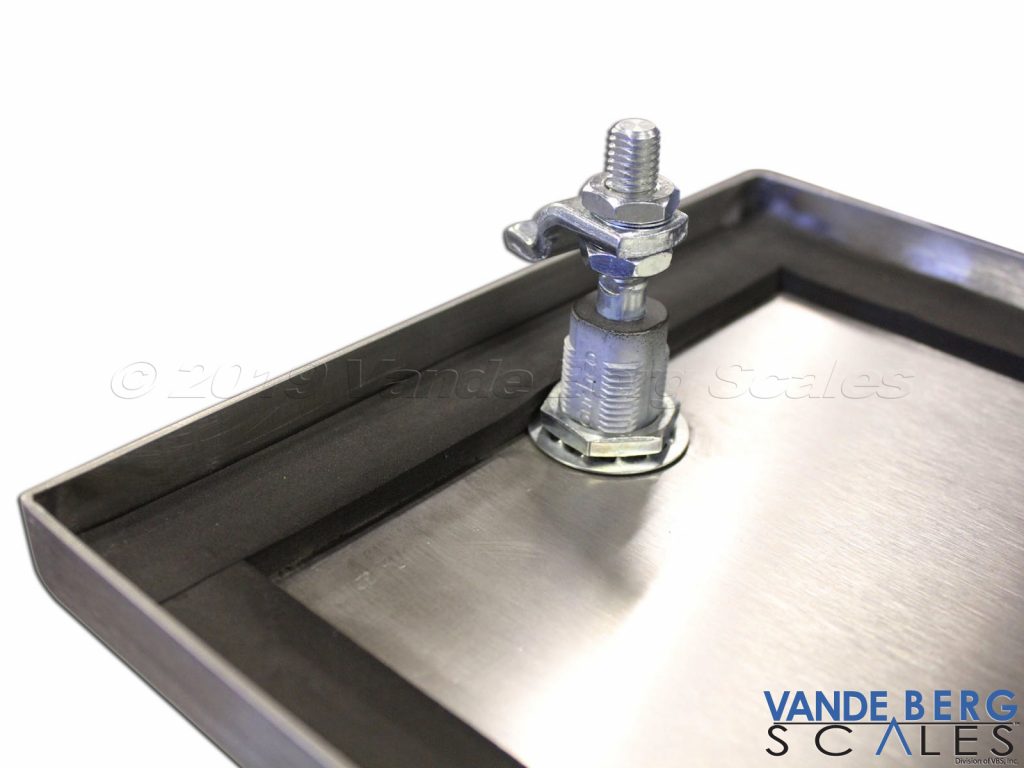 3. Quality Door Seal – Most of our enclosures use a 1-in wide x 0.25-in thick gasket. This ensures a continuous seal even if door alignment starts to deviate over years of use. The gasket material is blended Neoprene that is mixed with EPDM and SBR. In addition, the gasket is made of a closed-cell foam that does not absorb water.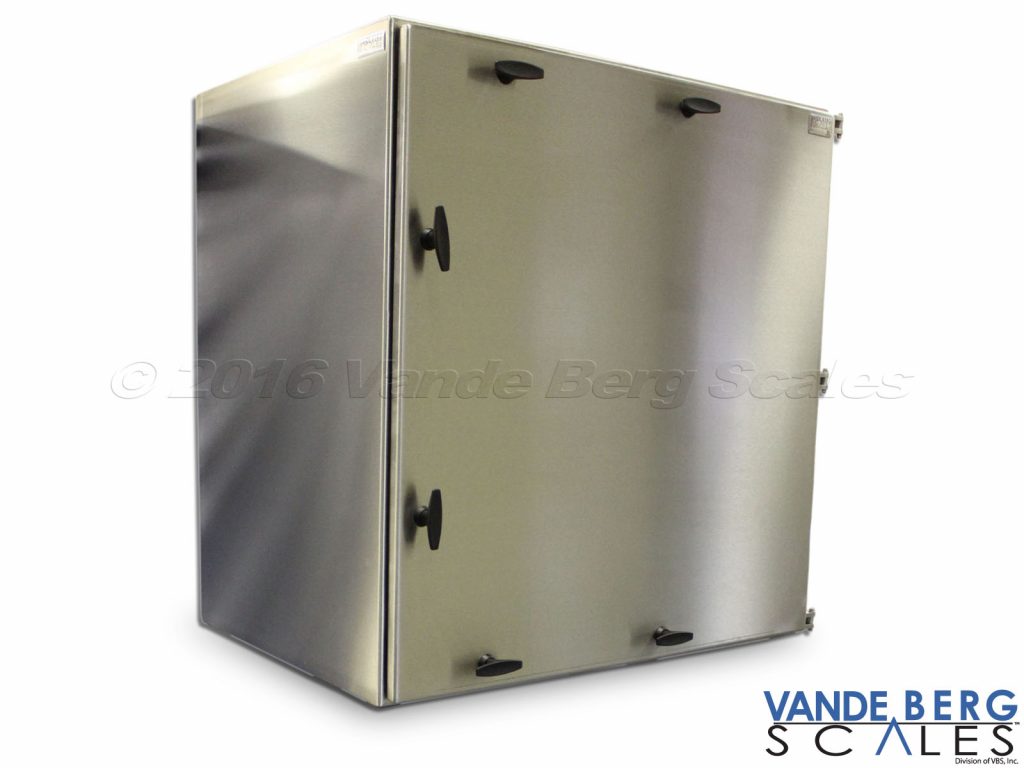 4. Multiple Locking Handles – We use multiple cam-locking handles that lock the door in place, but also pull the door towards the seal as you turn the handle. We also use several handles along the door edge to ensure positive pressure along the entire edge of the door or access panel. (Even the handle has an internal gasket.)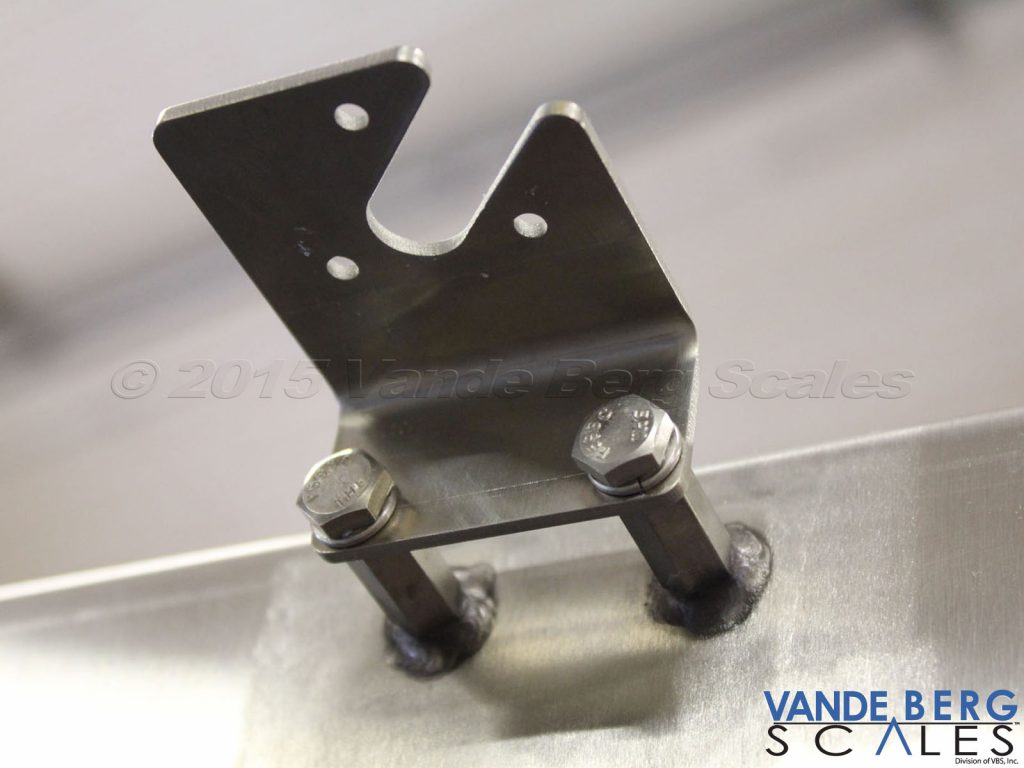 5. Penetrations are kept to a minimum – We weld external flanges where ever possible so components (i.e. light bars, antennas) are connected to the flange vs. securing the component directly to the enclosure, which would require drilling holes and creating a potential water entry point. Any cables are then run through the Cord/Cable Entry.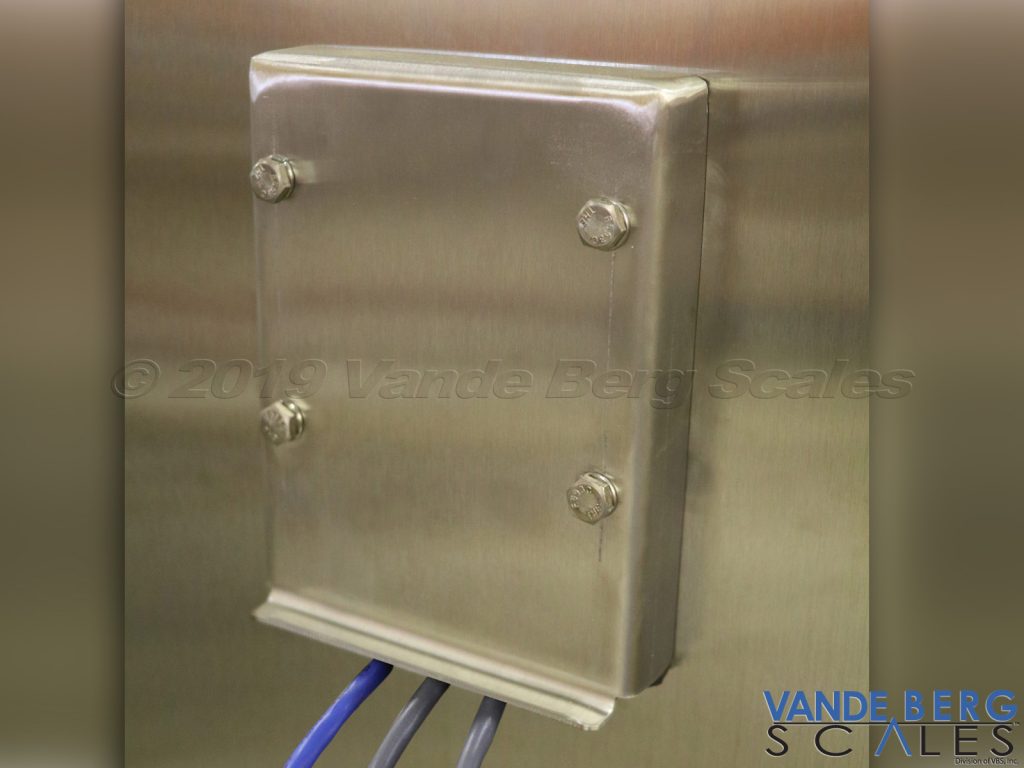 6. Well-Insulated Cord/Cable Entry – Our well protected cord/cable entry allows you the advantage of wiring your enclosure without having to cut and splice your cables. It can accommodate many cable entering the same location. The cables are sandwiched between multiple layers of closed-cell foam.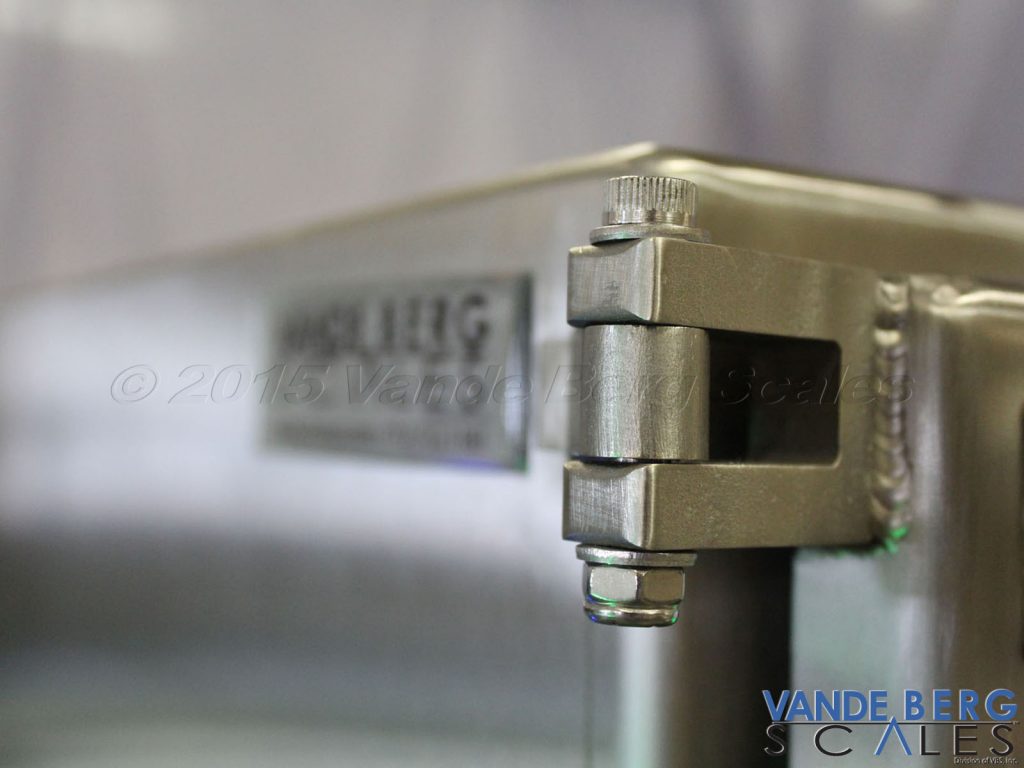 7. Double-Shear Point External Hinges – External hinges allow the door to make an even seal around the entire outside edge vs. internal hinges which often have reduced seal material in the vicinity of the hinge.
Stainless Steel Enclosure Gallery - These are completely customizable!
Downloadable PDF Resources
Didn't find what you're looking for? Try these products.