Multi-Lane Singulators
Stop Manually Spacing Product!
---
---


---
Multi-lane singulators are designed to save you money by eliminating the need to manually singulate and space package products entering:
In-motion weighing scales
Automatic labeling stations
Scanning stations
Metal detection
X-ray
Inspection
Singulators take multiple lanes of product from thermoforming machines and align them into a single file. They permit product to be properly presented so labeling, checkweighing, metal detection, etc. can occur without hassle.
---
Features and Benefits:
Provides automatic singulation thereby eliminating expensive labor
Small footprint
Individual belts turn on & off to smoothly and delicately transfer product one at-a-time
Multiple lanes of belts permit one indexer to be used for varying-width products
Washdown compatible design permits easy cleaning
Ideal for placement after packaging machines that repeatably release product in multiple-line line-abreast fashion
Simple user interface permits easy to change operating mode & timing for line-abreast product releases
---
Singulating Conveyor Features:
---
Why would I need a Singulation Conveyor?
Packaging and filling systems (i.e. thermoformers) often fill product in closely fitting, side-by-side rows which is far from ideal for presentation to product inspection, labeling systems, checkweighers and conveyor scales. However, labeling and weighing machines are most efficient when they have products presented in a single file and evenly spaced line.
This is where singulation conveyors are useful. They allow you to transition your product from multiple, closely contained rows, into a single file line.  See the example below. Note: This diagram does not have a converger since the customer had to change product direction 90-deg. This 90-deg direction change resulted in the products being in a single-file for the next process.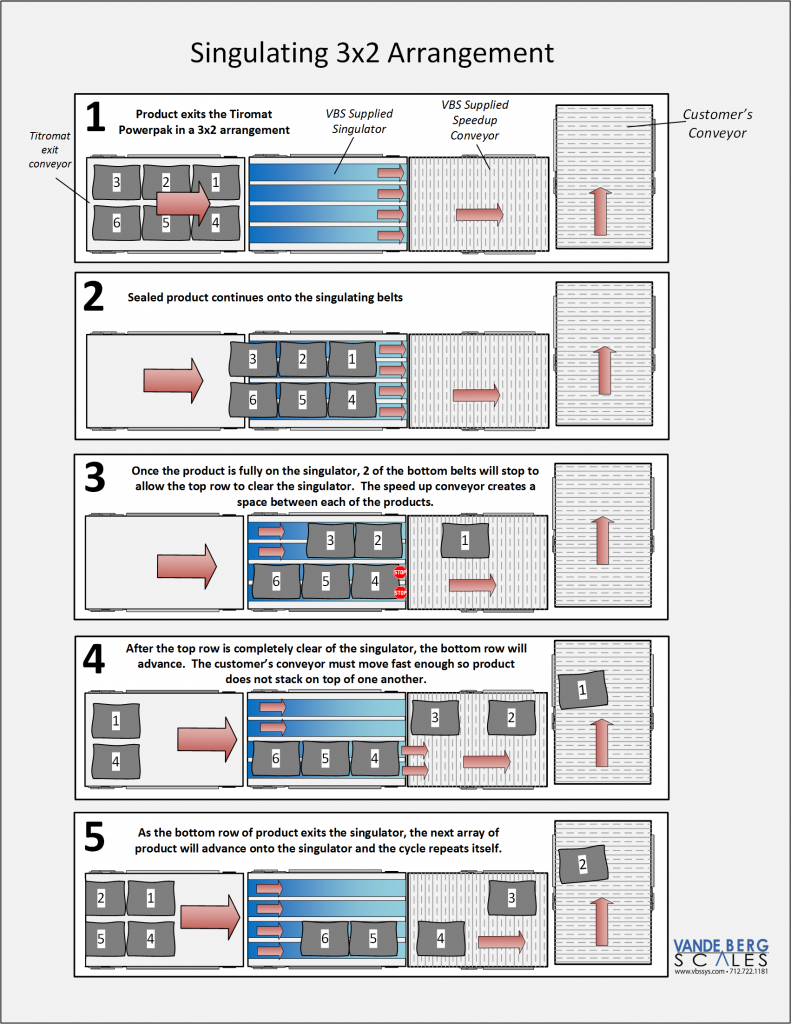 See a PDF of above diagram (Singulator & Speed-up Conveyor).
---
The following blog links will take you to vbssys.info (our blog site) and open a new window.
Issues with Product Indexing Conveyors
See all blogs on Singulating Conveyors
---
---
Singulator, Checkweigher & Metal Detector as one system
---
---
---
---
Contact us at 712-722-1181 today.